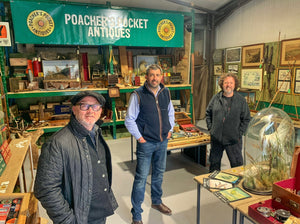 Salvage Hunters at Poacher's Pocket Antiques
On 21st April 2021 we were delighted to host Drew Pritchard, Tee and the production and film crew of Quest TV's top-rated antiques show 'Salvage Hunters' at our Brimfield HQ.
The whole day was simply superb, Drew was a keen buyer on and off camera, and Tee provided good humour and wit throughout. I had expected the process might be a little staged, but from the start it just ran naturally – and from the moment Drew introduced himself to me the cameras rolled and it was shot in real time. He was impressed with the variety and neat presentation of our stock, and commented on how translatable the pieces were into interiors, country homes and to satisfy collectors.
On camera he was very surprised to find a C1910 Kynoch Ammunition advertising mirror, and after some negotiation we agreed a price. I thought he might like it, so was pleased when he spotted it. His eagle eyes also spotted a collection of vintage iron eel spears, made for spearing eels from the mud for food, amongst the stock. He admired the sculptural form and as a collection he really fell for them, and a deal was done!
After filming with me there was a lot of production work, still photography and 'voice to camera' additions, and it was great to see a 'behind the scenes' take on the process. I'm sure Drew was very pleased with his many items that he purchased from me, and I wish him well with his sales.
Salvage Hunters filmed at Poacher's Pocket Antiques will air this autumn according to Quest TV scheduling, and we wait to view just how it looks on screen!!
Drew Pritchard (Salvage Hunters) with Lee Newman at Poacher's Pocket Antiques HQ.
---