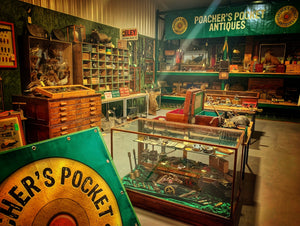 Fine hunting, shooting and fishing themed antiques, vintage and collectables
Specialising in decorative antiques, advertising items and signs, period taxidermy, fine fishing tackle, antique animal traps, vintage sporting books, interesting gadgets and tools, charming wooden decoys, gun case accessories, country bygones etc etc, each with a story to tell; a history, and a previous life. Whether you're looking for quality period items to decorate your home interior, find that special item to fill a hole in your collection, or just to pick up an eye-catching centrepiece that you have seen on our online pages I'm sure we can help you find something suitable. Read more about Poacher's Pocket Antiques, or have a browse through our stock.
What are you looking for?
From our pockets to yours
We provide a periodic newsletter to give a preview of new stock, news and updates to the Poacher's Pocket Antiques community ahead of everyone else. If you would like to be part of our mailing list and receive these newsletters please sign up below.
How can we help?
I want to see before I buy
Visitors are always welcome, when the store is open, or by private appointment. Often buying antiques or interior decorations is far more personal than other online purchases, and seeing an item with your own eyes is enough to assure you that you love it, and always will. We are happy to help with helping you make that informed decision, and can often add the back story of the source and previous use of our items.
I need to furnish an interior
To gain an idea of true colour and scale of an item, or judge the aesthetic against other items it is often worth a visit and a chat with us. We have helped clients create fabulous interiors including hunting lodges, hotels and private homes. Whether it's for a single piece or an entire project we will be glad to help you.
I'm on the hunt for something
If you're a specialist collector looking for something specific, or hoping to fill that space in your growing collection then we might have just the item you're searching for. We have a broad knowledge of most related collectables, and a network of associates and trade friends who can help us source the object of your desire if we don't have one in stock right now.
Faced with sourcing a gift for the man who has everything? This is the place for you ... I was torn between an antique mirrored lark lure and a Norfolk liar ... what a shop! Brilliant service, product exactly as described, swift delivery, could not have been any easier. Thank you Lee

Liz Westmoreland
Lee takes great pride in his work and has an eye for high quality items. He ships internationally and everything arrives in a timely manner and as advertised. A pleasure to work with and very reliable. I have bought several items over the last year and they are some of my favorite pieces.

Mark Beisser
Great service and communication from beginning to end. My item arrived quickly and securely packaged. I would have no hesitation in buying from Poacher's Pocket again.

Helen Crane
Lee at Poachers Pocket is a great gentleman to deal with, honest & very reliable & posts his wares very quickly, thank you Lee for your past service & look forward to many more years of buying from you, Allen.

Allen-Laila Mills
Lee is an honest and friendly guy with a great selection of treasures. Well packaged items and quick shipping.

John White